The final leg of the 1971 Newport Festival in Europe tour brought the Miles Davis septet back to Italy for a trio of performances in and around the "upper-boot" region. This audience tape from the magnificent Teatro della Fenice (seen below) captures the first of three consecutive nights of shows.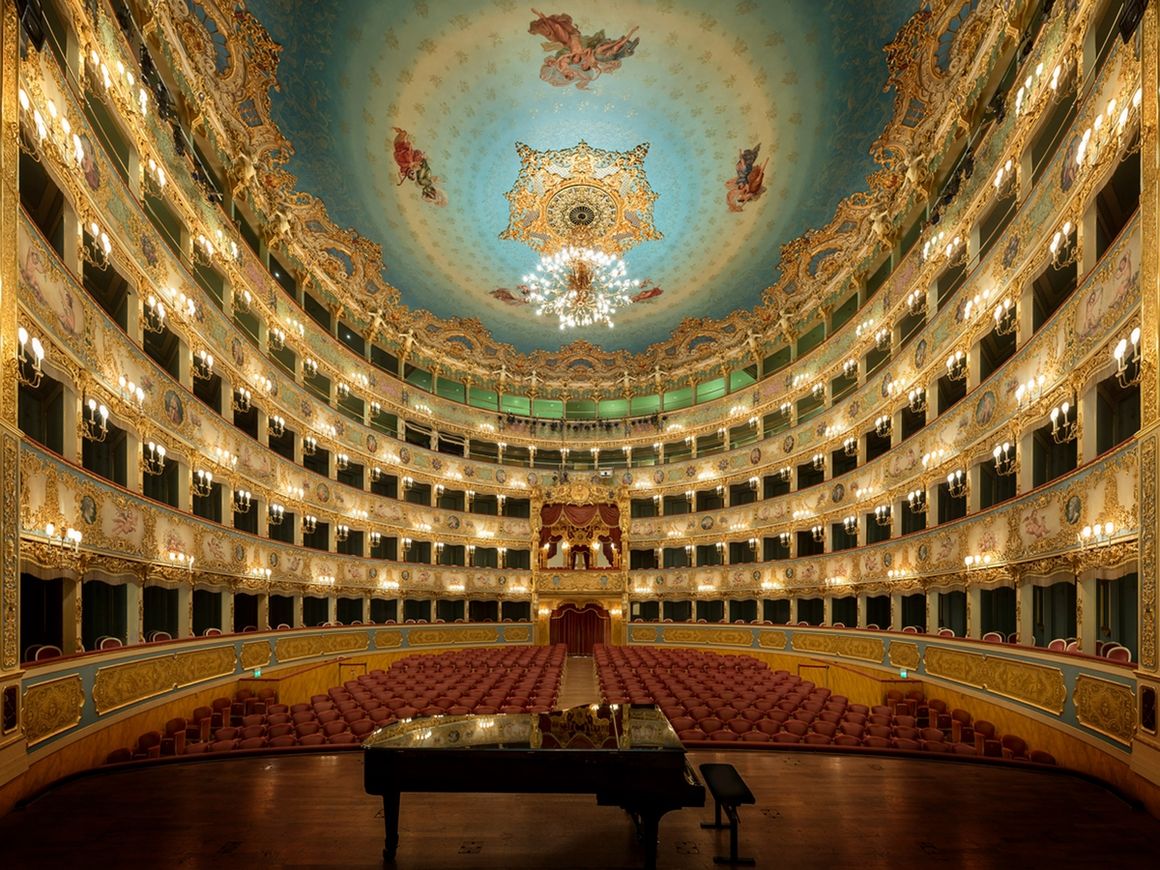 The mismatch of a heavily amplified jazz-funk septet in an 18th-century opera house results in an audience tape that leaves a lot to be desired – percussion and horns dominate the mix, Keith Jarrett's keyboards are buried but audible, and Michael Henderson's bass is often merely a suggestion. Still, this is an incredible display no matter the barriers.
The opening "Directions" > "What I Say" spring forth at a maniacal pace with Miles blowing wild atop a bed of runaway percussion. Whereas the tour's earlier shows captured the band at a similar full tilt, those performances were often at the brink of mayhem – here, the septet's clearly in control despite the tempo. Truly an amazing transformation in the span of a few weeks.
"It's About That Time" holds down its position as the set's centerpiece as Henderson continues to reshape the tune from within. His telepathic interplay with Jarrett shifted into a new gear around the mid-point of this tour and it's on full display in the second half of the set as the pair volley and play off one another with absolute ease. Though "Yesternow" was excised from the repertoire following the band's monster show in Cologne two nights earlier, the re-tooled setlist remains heavy on the drama with the closing "Honky Tonk" > "Funky Tonk". The former a lurching slow burner with some beautiful solos from Miles and Garty Bartz at the head, and an extra-long dual-keyboard freakout from Jarrett in the segue; the latter an ultra-funky extended groove that inches closer to an outtake from Sly and the Family Stone's There's a Riot Goin' On with each passing night. Don't miss the way Miles deftly slips the closing "Sanctuary" theme into the show's finale. Once your ears settle into the off-kilter fidelity, this is a masterful show.
Get the tape
1. Directions (10:30)
2. What I Say (16:25)
3. Sanctuary (3:06)
4. It's About That Time > Honky Tonk Intro (20:50)
5. Honky Tonk > Funky Tonk Intro (19:53)
6. Funky Tonk > Sanctuary (closing theme) (12:09)
Lineup
Miles Davis (trumpet)
Gary Bartz (soprano sax, alto, sax)
Keith Jarrett (Fender Rhodes piano, Fender Contempo organ)
Michael Henderson (electric bass)
Ndugu Leon Chancler (drums)
Charles Don Alias (conga, percussion)
James Mtume Forman (conga, percussion)