The summer of '69 rolls on with a true scorcher in Central Park, just a couple of days after the Shorter-less blowout at the Newport Jazz Fest. Like that Newport gig, you can hear the band continuing to work out and refine a lot of the phrasing and touchpoints they'd use to great effect on the Bitches Brew sessions a month later.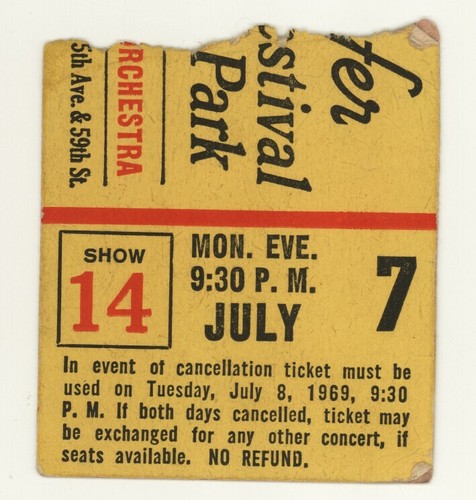 This is also our first tape where Bitches Brew material makes up the majority of the set list, with the arrival of one of my personal favorites, "Spanish Key" – barely recognizable from its album counterpart. At this point, "Miles Runs the Voodoo Down" had been in the set for a couple of months, and it shows – the arrangement is starting to coalesce and the length is now hovering around a sturdy 10 minutes (gone are the 17-minute explorations we heard at the Blue Coronet just a couple weeks before).
Still, DeJohnette is particularly wild on this date, clearly testing the boundaries of freeform playing within Miles' increasingly groove-based direction. The results are thrilling, especially on "Masqualero", with moments of chaotic intensity that effortlessly flow into stretches of pure serenity. Every '69 tape is essential in my book, and this is no exception.
1. Directions (0:56)
2. Miles Runs the Voodoo Down (11:41)
3. Masqualero (12:26)
4. Spanish Key (11:49)
5. Sanctuary (3:20)
6. The Theme (0:23)
Lineup
Miles Davis (trumpet)
Wayne Shorter (soprano, tenor)
Chick Corea (Fender Rhodes)
Dave Holland (upright bass)
Jack DeJohnette (drums)